Heart and Health Medical Specialties
Award-Winning Medical Group​
Heart and Health Medical has been voted the best of Long Island for providing exceptional medical care by our doctors in Allergy & Immunology, Cardiology, Internal Medicine, Family Medicine, Podiatry. We have been recognized by our patients as well as the Town of Babylon, Town of Oyster Bay, State of New York, Nassau & Suffolk County Legislators.
Medical Care As Unique As Our Patients ​
At Heart and Health Medical, our patients are part of our extended family. We strive to make every patient feel comfortable and appreciated while providing the most advanced medical care possible. The doctors of Heart and Health understand that every patient is an individual and needs a medical care plan that is as unique as they are.
Early Detection & Prevention Specialists​
Heart and Health Medical specializes in early detection and prevention of various diseases and syndromes with an expert team of Cardiologists, Internists, Primary Care Practitioners, Podiatrists, Allergists & Immunologists. With advanced medical screens and diagnostic testing, the physicians of Heart and Health create unique treatment plans for each patient to achieve optimum medical results.
High Quality Care Made Affordable
Heart and Health Medical is the only private physician-owned group medical practice in Long Island. Heart and Health Medical is committed to providing the highest level of medical care available with affordable payment options for the members of our communities, with locations in Massapequa, Coram, Plainview, and North Babylon. Heart and Health Medical accepts most insurances.
Heart and Health Medical Plainview is home to some of Long Island's best doctors and medical staff. With our office conveniently located near Woodbury, Hicksville, Melville, Bethpage, and Syosset, finding a top doctor nearby is easy. Heart and Health Medical Plainview delivers extensive and compassionate health care to patients across all of Nassau and Suffolk Counties. Our Medical team works together with your primary care doctor or specialist to help care for your heart and your overall well-being resulting in a longer, happier and healthier life. Don't have a primary care doctor? In need of a specialist? Heart and Health can help find the right doctor for your needs.
Voted the Best Allergist, Immunologist, Cardiologist, Internist, Podiatrist & Primary Care Doctors in Plainview NY.
Heart & Health Medical Providers
Heart & Health Medical Specialties
Heart and Health Medical Plainview has proudly offered healthcare to the Long Island community for over 15 years. We have created longstanding relationships within the communities of Nassau County and will continue to offer the most dynamic medical care available. We specialize in the early detection and prevention of many conditions and diseases with a diverse team of physicians with specialties in Family Medicine, Internal Medicine, Podiatry, Cardiology, and Allergy and Immunology. Our office in Plainview is conveniently located to patients of Woodbury, Hicksville, Melville, Bethpage, Syosset, and surrounding areas which allows us to welcome new patients and offer appointments that fit all of your scheduling needs. At Heart and Health Medical we put our Heart into your Health; which is why we have been voted Long Island's Best.
The Doctor walked out of the exam room without any word. I expected him to come back. But was told he left for the day. I had an upper respiratory infection that he failed to treat and when I called the office on Monday after suffering for the weekend he never returned my call. The receptionist told me to go to urgent care.I couldn't believe my ears. Such poor medical service he shouldn't be allowed to practice medicine.

BP McNichol
00:11 14 Feb 23
Front desk was very rude and un helpful.made new patient very uncomfortable

Always received very friendly service from front desk - Tina is our very caring coordinator -and we feel very comfortable with the medical service of Dr.Gutierrez who is extremelyfriendly with his top notch medical care!

Oscar Bosshart
14:32 18 Nov 22

Rajesh kumar Sehgal
15:02 07 Nov 22
I am new to this office and from my first experience it was clear that the ladies at the desk do not want to be bothered I guess there are busy doing somewhere than their job! Always unprofessional! And always expect ur billing to be wrong! Charged me for a visit which was for wellness which is free and insisted they charge me now I'm waiting over a week for a refund! Horrible office. Much better offices to choose from

I love that this group treats you as an individual. It is nice to have direct contact with them at the office when you call. They get back to you very quickly and are always pleasant. The doctors are very nice and follow up.This is very hard to find these days.

Tarah O'Brien
17:39 02 Aug 22
The best care I have ever had. Dr. R and Dr.G are the best, they know what I need to keep my health in good shape.

Eileen Seybert
01:44 30 Jul 22
I was unable to get an appointment because there's was no doctor in the office that day so It was suggested by the receptionist that to go to urgent care and an appointment was made for the next day. When i got there there was no appointment in the books and I was made to wait over an hour. Once i saw Mary Infantino she was brief and didn't really address my chief concern for why I was there in the first place. She said to take the medication I told her the urgent care doctor gave me the day before and to "soldier on" Hours later i found out I had Covid and when I called the receptionist said "you've got to be kidding me, Mary is going to be pissed" I asked for Mary to prescribe me Paxlovid, stating I'm a high risk Covid patient and was told that Mary would call me back. That was five days ago and I have yet to hear from anyone at that office. I hope I do t have long term effects from this. I had to make people aware of the lack of care, guidance, and compassion this office has for its patients. I have never felt so disappointed in a medical establishment, that have been going to for years, mind you.

melissa stanco
19:50 05 Jul 22
The office staff was courteous and friendly and accommodated me for a last minute appointment squeezing me in. Dr. Gutierrez took his time evaluating my symptoms and put me at ease. He diagnosed and prescribed me medication and I found great improvement within a few days of taking it. I highly recommend this physician and facility.

Michael Curry
20:56 12 Oct 21

I have never had such weight loss success as I have had with Dr Mary. She has helped me with the mental and physical obstacles of my weight loss and I truly look forward to each and every office visit.

Jackie Brennan
12:49 02 Oct 21

francesca randazzo
20:17 18 Aug 21
What I like most is I do not feel rushed and I can actually tell the doctor what's going on. Some doctor have one foot in the exam room and one foot out.

stephanie lovergine
17:26 01 Jul 21
Very friendly personnel and excellent doctors.


Patricia Scarborough
13:39 16 Apr 21
Best medical office for taking care my all personal concern. Prompt call back from doctors. Feel very safe and relax

pramod kumar
14:37 14 Apr 21
Everyone is pleasant and knowledgeable

estee bury
18:56 13 Apr 21
Doctor Thomas Risman is our Doctor from 1983 we thing he is Exellent family Doctor

Andrew Wygodzki
15:03 13 Apr 21
I find it very easy to make an appointment at this location. The staff is very friendly and knowledgeable. Dr. Gutierrez is an exceptional Doctor with a very calming bedside manner.


Maria Gonzalez
22:18 01 Mar 21

Michelle Sandler
22:00 01 Mar 21

GENESIS Ramirez
19:40 01 Mar 21
May I please ask if I qualify for the coronavirus vaccine?

Christopher Miraval
17:32 01 Mar 21

SuzAnne Getz
14:24 01 Mar 21

Julia Efthimiadis
19:38 13 Feb 21
This office was always a wonderful place to go to until my brother who took us there passed away. The dr Kavalstein was not only rude but,wouldn't take my mother's insurance anymore and I quote him " This insurance is S **T! " Do not go to him! Another dr Riesman is wonderful! Go to him instead he's not only understanding but always there for you! I will give him another review which he deserves!


Katharine Downer Ham
14:08 31 Oct 20
Friendly staff. Mary and Nicole are wonderful.

Christine Waunsch
02:20 29 Oct 20
Over all a good experience. Woman working behind the front desk could have been a bit friendlierReal like it if they did blood tests/drawing in office instead of going to a lab

Grace Palm
21:55 28 Oct 20
I absolutely love Dr Reisman! He is so nice and very caring. ❤

Janie Palladino
19:50 30 Jul 20
I refuse to go anywhere else. Dr. Reisman and ALL his staff are always there for me with compassion and professionalism. Also, if I ever need a special test, they usually offer it right there in the same office. I work for a world class hospital where I can be seen anytime and do not live close by, but I will not go anywhere else!

The front desk service is horrible.I am trying to get my prescription called in to pharmacy from three days and i don't have medicine.Went in office no one called in prescription ,called office two days in row no success.The front desk receptionist on friday 7/24/2020 put me on hold for about 15 minutes to call in prescription and hang up on me never returned.Seems like they donot care about their patients ,even i told her i donot have any medicine left.GOING TO CHANGE THIS DOCTOR .DONOT GO THERE

Saby Singh
15:59 24 Jul 20
Ask the front desk to do anything like fax over a health form and they lose the fax number (which you gave them) 3 times, ask you to stop being sarcastic and annoying to them when you call to ask them to please do it, tell you it's already done when it's not so you call back and then they say "oh the medical assistant didn't get around to it", scream at you that you need a vaccine that you've already had and that's why the form can not be filled out, and INSULT you...... not to mention the office manager, Tina will also tell you to stop annoying them with the most sarcastic attitude, and not give any attention to how rude her or the other staff at the front desk is. Don't bother waiting for an apology, you're nothing to them.

My experience with Heart and Health was very positive. I had a very unhealthy lifestyle and was plagued with stomach issues and sickness. I am on track and feeling a lot better; thanks to the team of doctors at Heart ad Health.

shari ahlers
17:21 24 May 19
Dr. Guida and staff are wonderful. Appointment was quick and informative. The care for my child was evident. Will recommend to all my friends.

Anthony Weiss
14:54 06 Apr 19
spectacular medical practice. The best on long island!

Long Island Hub
01:10 12 Jan 19
I will always choose to go Heart and Health in regards to my cardiology needs. I would even pay out of pocket if I had to do I trust these guys so much.

James William
12:12 07 Jan 19
Outstanding medical practice. Been going for over 2 years now and always have a great experience. One of the best cardiology practices on the island.



Kellz Dunn
18:29 29 Aug 17

Danielle Pearson
15:02 06 Apr 17

anthony buffolino
12:51 17 Oct 16

Flak DiNenno
16:01 24 Dec 15
Great Staff and doctors. I did not have to wait too long and all my questions were answered. Thank you

David Kavesteen MD FACC FCCP
22:48 04 Feb 14
Heart & Health Multi-Specialty Medical Group | Find A Doctor Near Plainview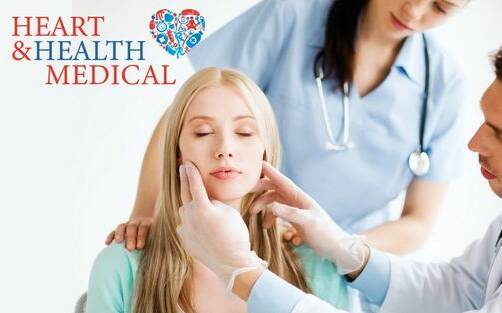 Multi-Specialty Medical Group in Plainview located at 1070 Old Country Road, Plainview NY 11803. Doctors and Specialists in Allergy, Asthma & Immunology, Cardiology, Internal Medicine, Primary Care, Podiatry, and Women's Health.
Service Type: Medical Care
Price: low
Currency: $
Download the Heart and Health Medical Mobile App
Getting set up with the Heart & Health Mobile App is easy.  Download the app using one of the two options below. Once your profile is approved and synced to your medical provider, you will have instant access to your medical care from anywhere in the world.
Telemedicine
Request Appointments
Prescriptions & Refills
Test Results