---
Heart and Health Medical is a comprehensive multi-specialty medical office providing excellent medical care in Cardiology, Internal Medicine, Family Medicine & Podiatry to the residents of Long Island since 2007.
           Our philosophy is to treat all our patients like our family, with courtesy and respect, while delivering the latest and most advanced medical care. Our providers specialize in early detection and prevention of diseases, syndromes and genetic anomalies.  Our treatment plans are uniquely tailored for each of our patients, in order to achieve their optimum medical needs. We pride ourselves on our personal attention and customer service. Our patients are not only a number instead they become part of our large family.
Here at Heart and Health Medical, We put our Heart into your Health.
We accept most medical insurances including Medicaid, Medicare, and Affordable Care Act Insurances (Obama Care). We offer many different payment plans and  financial assistance for our patients with financial hardship. We offer late night and weekend hours to make it more convenient for our patients to keep their appointments. You can request an appointment online or simply call one of our offices at multiple locations throughout Nassau and Suffolk County.
The knowledgeable staff at Heart and Health Medical in North Babylon, Plainview, and Middle Island provides personalized attention and excellence in Internal Medicine, family medicine, podiatry, and cardiovascular disease.  Heart and Health Medical delivers comprehensive and compassionate healthcare to patients all across Long Island.
Our attentive doctors and staff go above and beyond to show how much we care for our patients. We specialize in the early detection and prevention of diseases and conditions by utilizing the latest discoveries and advances in modern medicine. We would also like to thank our patients for voting us to be the Best of Long Island Cardiology 2013 and Patient Choice Award in  2009, 2010 and  2011.
Cardiology Department
The best cardiologist in the world at Heart & Health Medical specialize in the diagnosis and treatment of numerous diseases and conditions affecting the human heart and its vascular system. These cardiovascular diseases include, but are not limited to, heart attacks, cardiomyopathy, atherosclerosis, hypertension, high cholesterol, metabolic syndrome, arrhythmia, syncope, palpitations, angina, cardiac stents, permanent pacemakers, defibrillators implantation / management, etc. You can count on our skilled cardiology team to provide you with the best cardiac care by using the latest technology, such as Radiation Free Stress Testing, T-wave Alterans, Psudopath and many more. Our cardiology department develops the a plan by using a comprehensive cardiac evaluation, along with active collaboration with the best specialists in many different hospitals, such as Mount Sinai, Good Samaritan, Winthrop, Southside - NSLIJ . We understand that in order to provide our patients with the best service and specialist we need to compare many hospitals side by side. Our loyalty is to our patients and not to any specific health system or hospital.
Dr. David Kavesteen, is the founder and director of our cardiology department. He is Board Certified in cardiovascular disease and has been recognized as a "Leading Physician of the World" and the "Top Cardiologist in Babylon, NY" by the International Association of Cardiologists, and as "One of America's Top Cardiologists 2010" by the Consumers' Research Council of America.
Family Medicine and Internal Medicine Department
Our expert staff and highly skilled Family and Internal Medicine physicians have more than 20 years experience in their field and they are here to serve you and your family with the best care possible.  A healthy lifestyle helps people maintain their overall well being, as well as contribute to lower healthcare costs for everyone.  Our services include all aspects of medicine, such as regular checkups, immunizations, sick visits, DOT Exams, No fault accidents, workers comp injuries, physicals and urgent care. Walk-ins are welcome; we have many night and weekend hours and accept almost all medical insurances.
Residents of Nassau and Suffolk County can visit Heart & Health Medical for their comprehensive medical needs for the whole family.
Podiatry Department
You do not have to suffer with foot pain anymore. Our podiatrist, Dr. Esther Hansen, works closely with patients everyday to diagnose, treat, and prevent the most common foot and ankle problems; these include hammer toe, plantar fascitis, bunions, sprained ankles, Achilles tendonosis/ tendonitis, ingrown toenails, corns and calluses. Risk factors contributing to these common foot conditions include diet, lifestyle, age, weight, and improperly fitted shoes.
Everyone from children to athletes to seniors are prone to foot and ankle injuries. If you are suffering from foot and ankle pain or injury in Suffolk or Nassau County Long Island, give our podiatrist a call today at Heart & Health Medical at any of our locations.
Meet The Founder of Heart and Health Medical 
David Kavesteen MD, FACC, FCCP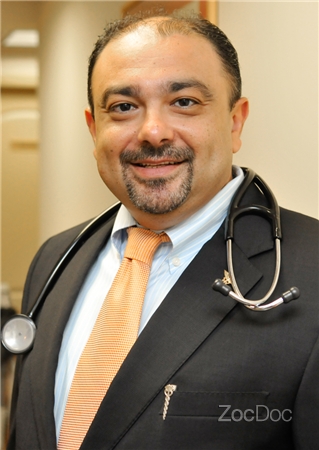 "As Physicians, our daily commitment to doing what's best for our patients is inspiring, honorable and challenging.
Our profession allows us to enter people's lives in moments of vulnerability, and trust is the main foundation for this relationship. Part of how we earn and maintain this trust is through the highest standards we as physicians collectively embrace throughout our training in medical school, residency and fellowships over a decade of hard work and sacrifice.  This is only achieved by complete dedication and love for our patients and medicine.
I salute every physician who puts their patient's well being first and follow his/her Hippocratic oat to the fullest.
Medicine is not only a science but it is also an art. We are all created uniquely with different DNA. Therefore, the same treatment plan may not present the same results all the time.
Education, Evaluation and Unique Treatment Plan are the hallmarks of Heart and Health Medical. Our expert medical team will develop the best treatment plan for each patient. The first goal of our medical team is to evaluate each patient with the latest technology and diagnose the underlining disease. We take our findings and then educate our patients on their medical condition. We rather treat the underlining disease than the symptoms alone.   It is only then that  THE PATIENT should make the final informed decision regarding his/her health with complete medical support from us. "             Dr. David Kavesteen   September 19, 2005   Babylon, NY
Dr. David Kavesteen received his Bachelor of Science in Biochemistry from SUNY Stony Brook with Magna Cum Laude and distinction in research award. He pursued his passion in medicine at SUNY Health Science Center at Brooklyn, School of Medicine. He completed his Internal Medicine internship and residency at the prestigious New York University Medical Center. Dr. Kavesteen continued further education by specializing in cardiovascular diseases and nuclear cardiology. He completed his fellowship training at Maimonides Medical Center. He became Board Certified in Internal Medicine 2001, Cardiovascular Diseases 2006 and Nuclear Cardiology 2004. He is a diplomat of American College of Cardiology, American College of chest, American Board of Internal medicine, and American Medial Association. He has received numerous awards, and he has been published in many medical journals. He is the founder of Heart and Health Medical . To see more awards please visit www.KavesteenMD.com.
Dr. Kavesteen believes that prevention and early detection is the key to longevity and maintaining a healthy heart and life. His genuine interest in prevention in all facets of medicine has given him a unique perspective in healing and rejuvenation. In recent years, he has combined Eastern medicine with Western medicine. He believes that the human body should be treated as a whole with a custom treatment plan for each individual.
---
Upcoming Events, Articles & Recent News:
November 10th, 2014
Babylon Village, NY – Mayor Ralph A. Scordino, together with Dr. David Kavesteen of Heart and Health Medical, provided free heart screenings to Village of Babylon employees on November 6, 2014. "I know your time is very valuable and it was extremely generous of you to donate your services... Read More >
---
October 6th, 2014
Huntington, NY – Councilwoman Susan A. Berland, together with Dr. David Kavesteen of Heart and Health Medical, will be providing free heart screenings to Town of Huntington employees from September 15th to October 15th "Evaluation and education are important to prevent the threat of heart disease... Read More >
---
June 20th, 2014
The Islip Town board will honor Dr. David Kavesteen with a plaque for his work in preventing Lyme disease and Tick bites. Dr. Kavesteen Recently donated his time and money for public service announcements concerning Ticks. That will air on the Islip Government Access channel and feature Councilman... Read More >
---
February 4th, 2014
For American Heart Month, Dr. David Kavesteen discusses Heart Disease in a PSA From what Heart Disease is, to how your cardiovascular system works, to important information on preventing this terrible disease, Dr. David Kavesteen teaches us about Risk Factors, Healthy Life Style Choices, and more... Read More >
---
May 24th, 2013
Dr. David Kavesteen of Heart and Health Medical gives a Public Service Announcement with Assemblyman Edward Hennessey on Lyme Disease. Click on each of the images below to view the 2 different videos Click here to view all 4 Public Service Announcements on Youtube... Read More >
---
May 24th, 2013
Assemblyman Edward Hennessey awarded Dr. David Kavesteen a Citation for being recognized as a Leading Physician of the World and Top Cardiologist of Babylon, Long Island, New York. Click the image below to watch the video on YouTube (Dr. Kavesteen Awarded Citation from New York Assembly)... Read More >
---
May 13th, 2013
Decreased Vitamin D Levels Linked to Depression and Panic Disorders In an article that appeared in Clinical Nutrition, London researchers report an association between reduced vitamin D levels and an increased risk of panic disorder and depression. The study included 5,966 men and women enrolled in... Read More >
---
April 5th, 2013
This past February, Dr. David Kavesteen and the Heart and Health Team visited Smithtown to give Town Employees and family members free Heart Screenings. The event was a huge success, and was written about on the Town's official website: From SmithTown, NY, Official Website The Town of Smithtown Tow... Read More >