Echocardiogram Stress Test
What Is An Echocardiogram Stress Test?
An echocardiogram stress test, also called a heart stress test, is used to see how an individual's heart muscle contracts while exercising compared to while at rest. This non-invasive cardiology test combines two separate tests, an echocardiogram (Echo) and a treadmill stress test (TST), to determine and evaluate how well the heart and its valves are functioning, how well the heart can handle activity, and the likelihood of the individual developing coronary heart disease. You need your heart to be in the best health possible so that it can cope with the stresses and strains of life. 
Whether you live in Nassau or Suffolk County, New York, Heart & Health is conveniently located, right here on Long Island, in order to provide you with the most effective Stress Test Screening.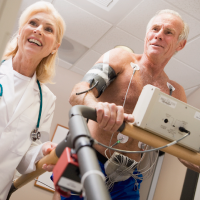 How Is A Echocardiogram Stress Test For Heart Diagnosis Performed?
The cardiovascular stress test is broken down into three different parts:
A resting echo study
A stress test
A second echo study while the heart is beating at a fast rate after exercise
How Do I Prepare For A Heart Stress Test At Heart & Health Medical?
For 4 hours prior to your test, do not eat or drink. Also, do NOT smoke the day of the Echo stress test, as nicotine can interfere with your test results.  Ask your physician if any of your medications should not be taken on the day of the test as it can interfere with your results as well. Many beta blockers, over the counter medications containing caffeine, and other pharmaceuticals (including insulin and pills for controlling your blood sugar) should be taken in accordance to your physician's recommendation before the test.
Water is allowed leading up the the appointment time for the cardiovascular stress test. The last meal you eat before the test should not include alcohol or caffeine.
On the day of your echocardiogram wear appropriate clothing. Don't wear pantyhose, tights, skirts, dresses, girdles, slips, one piece outfits, leggings, or stirrup pants. For a 48 hour period following up to your appointment, don't use any lotions, powders, oils, or creams on your body.
Please arrive 15 to 20 minutes before your appointment time.
What Happens During A Stress Testing Examination Procedure?
You can expect for your test to take anywhere between 30 and 60 minutes. First, our echocardiography technician will apply a colorless gel to your chest and then put the echo transducer over the gel. At this point several views of the heart are obtained by recording different chest areas.
After this is completed, you will begin the second part of the test activity on a treadmill or stationary bike. You will gradually increase your exercise intensity under the guidance of the lab technician. If at anytime you feel dizzy, short of breath, faint, or experience any pain/discomfort in your shoulder, chest, jaw, or arm tell the technician immediately! Additionally, you will be monitored on the EKG so the technician can stop the test if needed.
You will be asked to immediately return to your examination table while your heart's still beating fast, after your exercise session, for the second echocardiogram stress test to take place. You may be asked to slowly walk for several minutes in order to cool down. Until your blood pressure, heart rate, and the EKG return to normal, you will be monitored by the echocardiography technician. Our cardiologist will review all of the results from the echo stress test and then you will be consulted to proceed with any necessary treatment.
The primary goal of a Echocardium Stress Test is to monitor how your heart typically reacts to everyday activity, increased activity including physical and emotional stressors, and cardiovascular rebound once the added stress has been eliminated. Your doctor will be able to tell how fit your cardiovascular system is. If your doctor notices any unusual activity, or you are falling out of the standard norms of heart activity, they will be able to make a proper diagnosis as well as potentially prevent future issues down the line.
If you would like to make an appointment for an Echocardiogram Stress Test at Heart & Health Medical, contact our friendly and professional staff by clicking here.