Heart and Health Medical Specialties
Here At Heart and Health Medical, We Put Our Heart Into Your Health
Award-Winning Medical Group​
Heart and Health Medical has been voted the best of Long Island for providing exceptional medical care by our doctors in Allergy & Immunology, Cardiology, Internal Medicine, Family Medicine, Podiatry. We have been recognized by our patients as well as the Town of Babylon, Town of Oyster Bay, State of New York, Nassau & Suffolk County Legislators.
Medical Care As Unique As Our Patients ​
At Heart and Health Medical, our patients are part of our extended family. We strive to make every patient feel comfortable and appreciated while providing the most advanced medical care possible. The doctors of Heart and Health understand that every patient is an individual and needs a medical care plan that is as unique as they are.
Early Detection & Prevention Specialists​
Heart and Health Medical specializes in early detection and prevention of various diseases and syndromes with an expert team of Cardiologists, Internists, Primary Care Practitioners, Podiatrists, Allergists & Immunologists. With advanced medical screens and diagnostic testing, the physicians of Heart and Health create unique treatment plans for each patient to achieve optimum medical results.
High Quality Care Made Affordable
Heart and Health Medical is the only private physician-owned group medical practice in Long Island. Heart and Health Medical is committed to providing the highest level of medical care available with affordable payment options for the members of our communities, with locations in Massapequa, Coram, Plainview, and North Babylon. Heart and Health Medical accepts most insurances.
Heart and Health Medical Massapequa is home to some of Long Island's top local doctors and medical staff. Our office is conveniently located at 6175 Sunrise Highway in North Massapequa, near Massapequa, Amityville, Seaford, Wantagh, and neighboring towns. Finding a top doctor in Massapequa is easy. Heart and Health Medical Massapequa delivers extensive and compassionate health care to patients across Nassau and Suffolk Counties. Our Medical team can work with your primary care doctor or specialist to help care for your heart and your overall well-being resulting in a longer, happier and healthier life. Don't have a primary care doctor? In need of a specialist? Heart and Health can help find the right doctor for your needs
Voted the Best Allergist, Immunologist, Cardiologist, Internist, Podiatrist & Primary Care Doctors in Massapequa, NY.
Heart & Health Medical Specialties
Heart and Health Medical Massapequa have proudly offered healthcare to the Long Island community for over 15 years. We have created deep-rooted relationships within the communities of Nassau and Suffolk Counties and will continue to provide the most progressive medical care available. We specialize in the early detection and prevention of many conditions and diseases with a diverse team of physicians who specialize in Family Medicine, Internal Medicine, Podiatry, Cardiology, and Allergy and Immunology. Our office in Massapequa is conveniently located to patients of North Massapequa, Amityville, Seaford, Wantagh, and surrounding areas which allows us to welcome new patients and offer appointments that fit all of your scheduling needs. At Heart and Health Medical we put our Heart into your Health; which is why we have been voted Long Island's Best.
Awesome place , Dr Nick is the best

Russ PAttay
16:57 17 Oct 23
I want to express my sincere gratitude to Dr. Nick Demetriou for his exceptional care, kindness, and professionalism. Dr. Nick performed extensive testing and referred me for a multiple bypass surgery which was the best option for me. He showed me the blockages, and how important this procedure was, and urged me to take immediate action. The multiple bypass procedure was a success and my recovery is going well. I feel healthier than ever. I would recommend Dr. Nick Demetriou to anyone in need of high-quality cardiac care. My whole family thanks you and the front desk staff. Thank you again Dr. Nick Demetriou, for your outstanding service.

Very kind and helpful staff, Susan is the best! She helps and cares about her patients worries and needs.

angie flores
04:28 13 Oct 23
We have been seeing Sandy Terc, PA since we moved to Long Island six years ago. I can't say enough about Heart and Health in Massapequa. The front desk staff is always extremely helpful. I always speak with Jessica when I call regarding various issues for my mother. Whether it be calling in a prescription, scheduling a last minute:emergency telehealth or bloodwork it's always an easy task because she and the entire staff are unbelievably exceptional, competent and understanding. They truly go above and beyond. It's such a pleasure and a relief to have a doctors office that cares about their patients so much. Highly recommend anyone to see the doctors in their office.

Kelly McKiernan
02:32 13 Oct 23
Recently I joined Heart and Health Medical of Massapequa and was immediately impressed with their exceptional service. Valerie at the front desk ensured a smooth start, efficiently handling my registration and appointment scheduling with professionalism and warmth. The clinical experience is just as noteworthy, thanks to the medical assistant, Jasmine. Having my blood drawn by her was a breeze, thanks to her skill and soothing demeanor. Every interaction at Heart and Health reinforces my trust in their care. Their blend of expertise and warmth makes them the go-to medical team in the area.

David Miele
21:45 12 Oct 23
My experience was amazing . everyone was very professional especially the front desk . I felt very taken care of and welcomed by the ladies at the front desk coming in for my appointment and i will love coming back. I highly recommend giving this place a chance !!

Hope Garcia
20:34 12 Oct 23
I cannot say enough good things about Heart & Health in Massapequa! Sandy, the PA has been my primary for years and is always so friendly, so thorough and informative, down to earth and will drop anything for her patients. She truly cares about her patient's health and well being. On top of that, the front desk is always friendly, courteous and accommodating. As a full time working mom, it's hard to schedule my health and sick visits and they always go above and beyond to get me an appointment that fits into MY schedule. If I need a doctors note or test results, they are on top of it and immediately get it done. When I walk in there I really feel like I'm family. Cannot recommend this healthcare facility enough!

Alaina Valdina
20:25 12 Oct 23

Greg Lavine
18:25 12 Oct 23
Dr nick lo recomiendo al máximo muy buen doctor .el único que después de dios me a podido controlar mi presión alta muchas gracias dios lo bendiga 🙏

Maria Montero
20:22 12 Sep 23
Dr. Nick Demetriou is the absolute best doctor you can go to. He goes above and beyond for his patients constantly. He truly cares about his patients. I couldn't recommend a better doctor!

The service and help were superior from the first phone call to set up my appointment to my appointment with Dr. Nick. The staff, especially Jessica, was helpful, courteous, polite, and friendly. Dr. Nick made me feel comfortable from the minute he entered the room. He explained everything going on with me and helped resolve an issue with my other doctor. I am so pleased that I selected Heart and Health in Massapequa

Matt Acanfora
12:25 02 Aug 23

Joseph Dyba
14:59 17 Jul 23
I am a very happy patient here. 2 months ago, Dr Nick ran me through a battery of tests and found I had 3 blockages! I had triple bypass surgery on 3/28. I did not have any symptoms. 2 months later, I feel better than ever and I am fully recovered from the surgery. Thanks Dr Nick!

Paul Quinn
18:07 08 Jun 23
Thanks to doctor Nick i am alive to see my daughter grow up. If it wasnt for him i wouldnt be alive! Im so thankful for him más the team behind him!

Amelfi Rosario rodriguez
20:11 05 Jun 23
An entirely quality experience

Nick Gamma
16:02 16 May 23
When you walk into this office and, the first person you is meet is Jessica. you know, you are in good hands. She is very professional, personalble and always smiling. If you need to call into the office with a question she is right there for you, by either getting your answer Immediately or a call back. She gets things done for you.I use Sandy Terc for all my medical needs. I can't say enough about her. She is wonderful. Makes you feel so comfortable from a physical or the common cold. She was right ontop of thiings during COVID. Everytiime I called she always gave me the time to talk and ask questions. This is who she is, a very professional, warm, sensitive person. Wouldn't use anyone else.

Loretta Katz
14:10 29 Mar 23

Denise Russo
20:07 16 Mar 23
Due to Dr Nick's attention to detail a negative stress test led to two blockages being found in my heart requiring four stents. At the age of 46 I am fortunate that these more than 70% blockages were found and stented before I had a heart attack and suffered damage to my heart or worse.


Thomas Juckiewicz
00:51 18 Nov 22
I feel at home. Sandy is the best PA!!!!!

debra smith
22:48 17 Nov 22
Jennifer and Jessica are courteous, professional and an asset to Heart and Health.

Frances Hanson
08:55 17 Nov 22
I have been a patient of Heart and Health for about 5 years and recently been under the care of their new staff member, Dr. Nick Demetriou. Dr. Demetriou a/k/a "Dr. Nick" has been wonderful and thorough with me throughout all of my visits. Because of his great care, it was discovered that I needed by-pass surgery sooner rather than later! So he was a life saver to me! Dr. Nick takes his time and really cares about his patient's overall health. He treats everyone with respect and dignity. The staff as well is always friendly, knowledgeable and accommodating. I have no problem with the practice and would recommend Dr. Nick and staff to anyone!

Stanley Bond
00:03 24 Aug 22
Been with H&H Medical for around 6 years. I began with Dr. David Kavesteen and was never, ever disappointed with my visits and care. In last year a new doctor joined the team, Dr. Nick Demetriou. "Dr. Nick" as he is referred to is a pleasure to deal with as well. He always has a welcoming hello and smile, pleasant conversation, calming atmosphere. He has a great memory of details from prior visits. I do not feel like a number, but a patient. He listens to all my concerns and puts me at ease. Dr. Nick is thorough and truly cares about one's concerns/health issues. He is easy to talk to and mostly has and enjoys a sense of humor as well. He listens to what you have to say and doesn't just push your opinions or concerns aside, but either carefully explains his opinion or agrees to further research a situation if needed. The support staff and the office are also a pleasure to deal with. Always a nice hello and how are you before "business". Everyone is most accommodating and sweet. Give Dr. Nick a chance and you won't be disappointed!

Patricia Marshall
00:15 03 Aug 22
Everyone is always very helpful .

Maureen Nicholes
18:38 29 Jul 22
Heart and Health of Massapequa provided COVID testing at my job for the past year. The staff was very friendly and efficient.I recently started seeing an allergist at the Babylon location and was very pleased with my initial visit and the follow up.I would certainly recommend Heart and Health.

Mike DiNardo
20:40 02 Jul 22
I have been a patient with Heart and Health Medical for a few years now. I started out at the Plainfield Office then my doctor went to the North Babylon office so I began going there. He left the practice sometime in 2019 or 2020. Since I was going to be starting a new relationship with a doctor and the Massapequa office is closer to my house, I choose to do it there. In comes COIVD and in office doctor visits virtually stop. When they resumed, Dr. Nicholas Demetriou was there to greet me. "Dr. Nick" has been AWESOME is addressing my medical needs. He takes the time to talk to you and to put together a plan of action, breaks it down step by step and is ready to adjust the plan along the way in either direction depending on your results. One of the biggest things I truly appreciate about Dr. Demetriou is his conversation in regards to the importance of lifestyle changes for healthier living. It's easy for a doctor to prescribe multiple medications to yield the results they are looking for. It takes patience to guide the patient and give them the time to make the necessary lifestyle changes so they can yield those same results themself. I am an example of that, Thanks "Dr. Nick" !!!


Patricia Frey
23:02 29 Mar 22

Mary Capone
16:49 29 Mar 22

Excellent Service! Wonderful Staff!

Donald Bernardin
16:18 15 Feb 22
I normally don't write a review for anyone but after going to Dr kavestin for a general check up and a heart check up, I was so impressed with him being so knowledgeable and at the same time so nice, I had to take the time and thank him online. Love the office and the office workers as well.

Bobby Bamdad
23:48 12 Feb 22
The Doctor was very compassionate and thorough. The office environment is very friendly, clean and follows all Covid safety measures. I highly recommend this facility.


Jackie Franks
14:24 12 Feb 22
The most amazing staff. They took me early because I was so uncomfortable with my allergies. The nurse and nurse practitioner "Ilyse" were supper nice and helpful. This place got me the help I needed immediately and put on a clear plan to find out my trigger. Huge thank you to the staff

raafat chalar
19:08 09 Feb 22

Maureen Nicholes
11:50 06 Jan 22

theresa rende
03:45 06 Jan 22
They actually treat you like a person .you askA question and they give you an answerRealiy clean and very pleasant staff! I've never hadA bad experience in their office. !!!!!!!

terry holland
16:57 05 Jan 22
Quick and easy!!! And very friendly!!!

Migdalia Rodriguez
12:06 13 Oct 21

Maria Garcia
02:51 13 Oct 21
The staff was very friendly and the appointments were on time.Everything was also very clean which eased our anxiety during these difficult times.

Heidi Venticinque
13:59 12 Oct 21

Josephine bidgoli
04:36 02 Oct 21
I followed Dr Guida to Heart & Health he has been my allergy Dr for many years & been very happy with the services I go to the Massapequa office.Amber his nurse has been extremely helpful whenever I call with questions about anything.

Wanda Kruse
04:54 19 Aug 21


Marlene Barrett-Ragkaswar
23:14 18 Aug 21




Doctor In Massapequa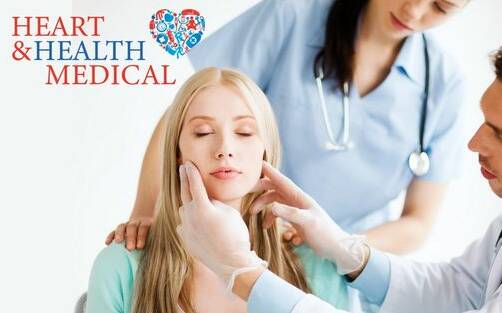 Multi-Specialty Physicians Practice located at 6175 Sunrise Highway, Massapequa, NY 11758. Medical Specialties include Allergy, Asthma & Immunology, Cardiology, Pain Management, Podiatry, Primary Care, Internal Medicine, Vascular Surgery, and Wound Care.
Service Type: Medical Care
Price: low
Currency: $
Download the Heart and Health Medical Mobile App
Getting set up with the Heart & Health Mobile App is easy.  Download the app using one of the two options below. Once your profile is approved and synced to your medical provider, you will have instant access to your medical care from anywhere in the world.
Telemedicine
Request Appointments
Prescriptions & Refills
Test Results