Susan Diaz-Giraldo, AGACNP-BC, MS, RN, CEN
Primary Care & Internal Medicine
English & Spanish Speaking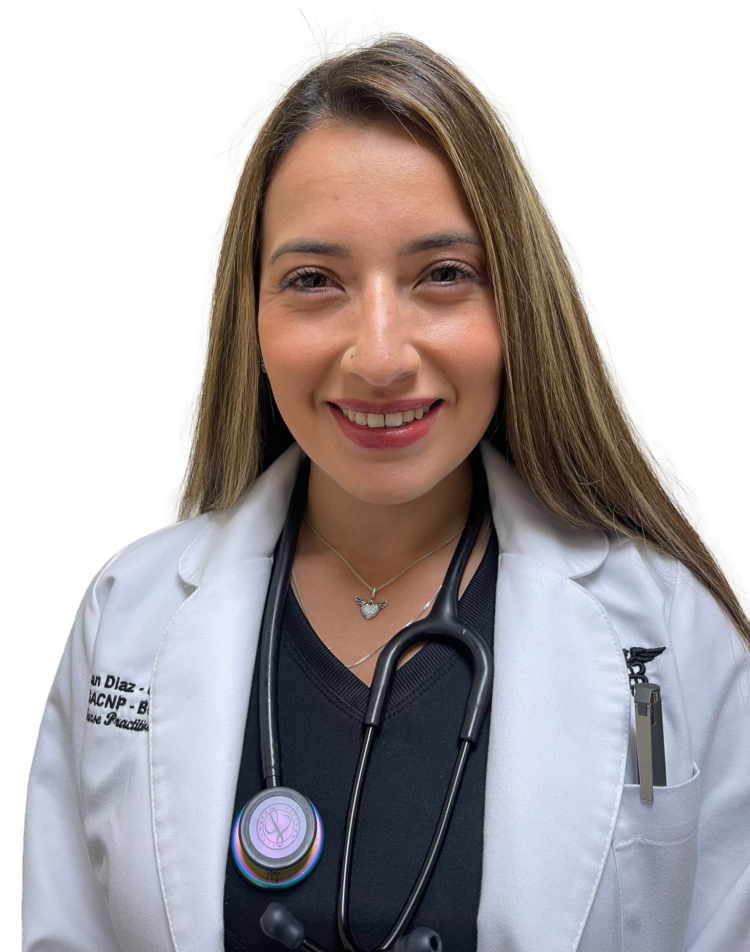 Susan Diaz-Giraldo, AGACNP-BC, MS, RN, CEN
American Academy of Nurse Practitioners​
Susan Diaz-Giraldo is an Adult-Gerontology Acute Care Nurse Practitioner Board Certified by the American Nurses Credentialing Center. She obtained her Master's Degree from New York University, and since then has practiced in the Emergency Department at Montefiore Medical Center in the Bronx, NY, as well as Internal Medicine and Primary Care in Jamaica, NY. Prior to her career as a Nurse Practitioner, Susan worked as a Certified Emergency Nurse at New York Presbyterian Hospital for 7 years, and Long Island Jewish Medical Center for 2 years. She obtained her Undergraduate degree from New York Institute of Technology. She has experience in Emergency and Critical Care, Stroke, Cardiac Emergencies, as well as COVID-19 Response Team. She is dedicated, motivated and passionate about developing relationships with her patients that foster safe and high quality patient centered care. Susan is a member of the American Nurses Association, and the Academy of American Nurse Practitioners. She is also fluent in spanish.
Susan Diaz-Giraldo Has Treated 1,000's Of Patients In Long Island
Team Approach To Primary Care & Internal Medicine
Primary Care and Internal Medicine at Heart and Health Medical provides the community of Long Island access to the best primary care physicians in Nassau and Suffolk Counties. At Heart and Health Medical our team of primary care doctors and internal medicine specialists work together to provide patients with custom-tailored treatment plans designed for optimal results and patient safety. If you have been struggling to find a primary care doctor in your area, you have come to the right place. Heart and Health Medical has four convenient family medicine and primary care locations in Nassau County and Suffolk County, and a brand new state-of-the-art vascular laboratory and the mobile medical unit, run by some of the best doctors and medical providers in New York. 
Directions to Heart and Health Middle Island