Long Island Hemodialysis Treatment
Hemodialysis is a treatment designed to filter wastes, minerals, and excess fluids from the blood, when the kidneys are no longer able to perform these functions. Hemodialysis uses a machine to draw and filter the blood and return it again clean. This treatment is used for patients suffering from advanced kidney disease, and loss of kidney function, to maintain the patient's overall quality of health and quality of life, as well as maintain and support kidney function. Because of this the treatment is recommended before the kidneys lose complete function, common causes of kidney failure include Diabetes, High blood pressure, Kidney inflammation, Blood vessel inflammation, Kidney cysts. Common symptoms of kidney failure include nausea, vomiting, swelling, or fatigue. A doctor can measure kidney function to determine if the kidneys are functioning normally or treatment is needed.

Hemodialysis Care at Heart and Health Medical
The Hemodialysis team at Heart and Health Medical operates out of the new state of art Vascular Laboratory Facility in Massapequa to provide the Long Island community access to the highest quality care. The team has over 20 years of experience in hemodialysis and kidney care, with specialists in vascular surgery, transplantation, and dialysis access points, led by Dr. John Tomasula, a Board-Certified Surgeon with specialized training in general surgical, endocrine, and vascular access procedures, and surgical care of dialysis patients. He practiced general surgery, vascular surgery, and kidney transplantation at Westchester County Medical Center as the Associate Director of Transplantation, before being selected as Director of Transplantation at St. Lukes-Roosevelt Hospital Medical Center in New York City.
Dialysis Treatment Options
An Av Fistula is a surgical procedure to connect an artery and a vein. Points of access are in most cases located in the non-dominant arm. Dialysis patients that need extensive care benefit most from this type of access. AV fistulas are the best option for long term care.
Av fistula uses your own artery, so no synthetic objects are in your system
Provides good blood flow which may decrease dialysis time
Same day procedure
Clotting rates are low
Infections are not likely
If clot arrives minimal invasive procedure can be done to un-clog
AV Fistula is an outpatient procedure, which does not require overnight hospitalization. Pain and swelling are common, your doctor may prescribe pain medication if needed. Post procedure, patients will need to keep their arm elevated to reduce the swelling. The wound should be covered for seven days, and the patient should avoid heavy lifting for 14 days. The access point will be ready to use in eight weeks. 

Arteriovenous Graft, is the connection of a vein and an artery, in the non-dominant arm, that utilizes a hollow, synthetic tube which is the graft. This connection results in blood flowing from the high flow, high pressure artery through the graft and into the low flow, low pressure vein. Which will improve the quality of blood flow and your hemodialysis treatment.
AV graft is a safer option for small or unhealthy veins.
Life span of an AV graft is 2-3 years but can last longer
Graft can safely be used 2 weeks after procedure is done
AV graft is an outpatient procedure that does not require overnight hospitalization. The wound heals on average in 2 – 3 weeks. Pain and swelling is common and the patient will be required to keep the arm elevated as much as possible to reduce swelling. The wound should be covered for seven days, and the patient should avoid heavy lifting for 14 days. Dialysis can start at the access point in 2 – 6 weeks.
Central Venous Catheter Placement
Venous Catheter is a minimally invasive procedure used to provide access for hemodialysis. This access type is designed to be used for a shorter duration than other procedures, but has multiple benefits as it is an outpatient procedure with a minimal risk of infection.
Dialysis can be performed immediately
Easy placement and removal
A central venous catheter procedure is an outpatient procedure that does not require overnight hospitalization. The access point is primarily used for short term treatment, as it can be used immediately but is only viable for several weeks or months, as long term use leads to a higher rate of infection.
MILLER Procedure for Steal Syndrome
The MILLER procedure was developed for increased blood flow to the hand, during hemodialysis treatments, in the access arm for patients who suffer from a condition know as steal syndrome, which occurs when the diversion of arterial blood from the hand causes pain, coldness, numbness, or tingling.
Highly precise method
Least invasive option
Easily adjusted or reversed.
This procedure is a minimally invasive outpatient procedure that typically does not require overnight hospitalization. Pain and swelling are common, the arm should be kept elevated and pain medication may be prescribed if needed. Activity and heavy lifting should be avoided for 24 hours.
PD is a needle and blood free treatment, that utilizes the peritoneal membrane, a surgically placed catheter, and a dialysate solution to remove wastes and fluid from the body.
Fewer negative side effects (such as nausea, vomiting, cramping, and weight gain) than with hemodialysis
Provides continuous therapy, which acts more like natural kidneys
Can allow for fewer dietary restrictions
Needle-free treatments
Do not have to travel to the dialysis center for treatments
Greater flexibility and freedom in your treatment schedule
Peritoneal Dialysis catheter placement is an outpatient procedure that generally does not require overnight hospitalization. Pain and swelling are common, a doctor may prescribe pain medication. The post-surgical dressing should be kept dry and in-place, the dressing will be removed by your dialysis care specialist. Recovery time for this procedure is two to four weeks.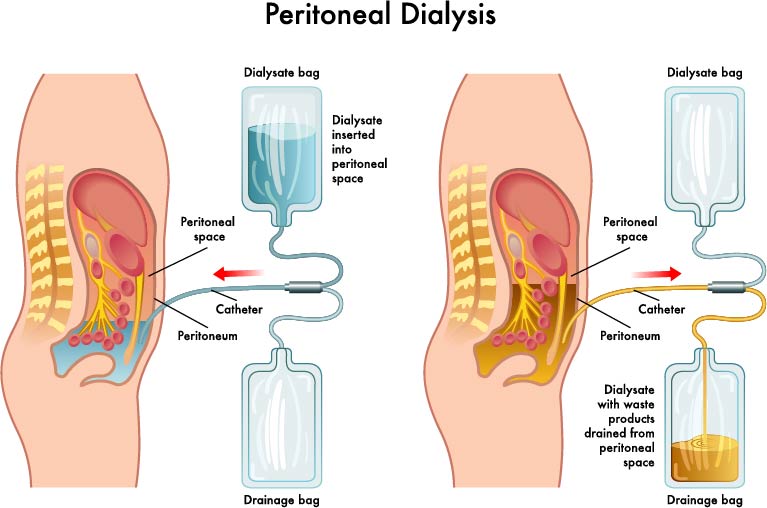 Angioplasty and Stent Procedures
Av fistula and graft access are for long-term dialysis patients at times they can narrow, clot and a minimally invasive procedure will be done to improve the blood flow needed to continue dialysis treatment. Stenting-small mesh wire tub that expands, it holds open the vessel to restore blood, Dialysis management. Stent placement to restore blood flow. 
Thrombectomy/Thrombolysis Procedure
Thrombolysis is a minimal invasive procedure that uses medication to treat and remove a blood clot creaded from the dialysis. Thrombectomy uses an angioplasty balloon catheter or mechanical device to break up and remove clot from fistula.