Dr. Nicholas Demetriou, DNP, MBA, RN, ANP-C, CCRN
Doctorate degree in Cardiovascular Disease Treatment, Specializing in Heart failure, and Rhythm Interpretation.
Board Certified by the American Association of Nurse Practitioners​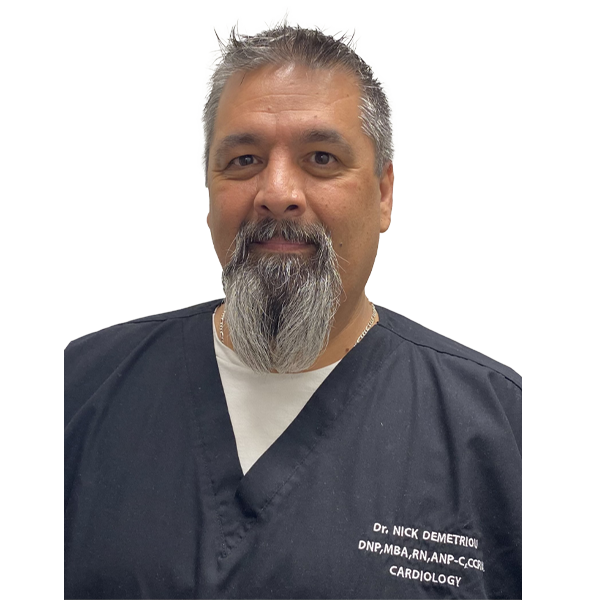 Dr. Nicholas Demetriou, DNP, MBA, RN, ANP-C, CCRN
Board Certified by the American Association of Nurse Practitioners
Dr. Nick Demetriou is a nationally certified Nurse Practitioner who holds a Doctorate degree in Cardiovascular Disease Treatment with two sub-specialties, heart failure, and rhythm interpretation. Dr. Nick Demetriou has been in the healthcare field since 1994. He is a veteran of desert shield and desert storm (Persian Gulf War I.) After parting from the military he became a CNA working with mentally challenged and developmentally disabled adults. From there he became a LPN, an RN, and finally a Nurse Practitioner. He has practiced Cardiology and Critical Care for the entirety of his professional career. Dr. Nick is a two-time graduate from SUNY Stony Brook, once for his RN and the other for his Master's as a Nurse Practitioner. He also holds an MBA and a Doctorate degree as stated above.
He comes to Heart and Health Medical via Mt. Sinai Hospital and Hospital for Special Surgery. At Mt. Sinai Dr. Nick was senior practitioner on the general cardiology service as well as performing over 1500 diagnostic cardiac catheterizations in the cath lab. At H.S.S Dr. Nick was the leader of the department and expanded the cardiology consult service where he optimized the peri-operative cardiac device management pathways and consult process. He also took over the anticoagulation service during a post-covid restructuring.
Dr. Nick is a Long Island born practitioner that enjoys time with family and helping people live better with, and hopefully preventing, heart disease. In his downtime, he likes to read books on astrophysics, play C.O.D., and ponder business ideas.
Dr. Demetriou Has Treated 1,000's Of Patients In Long Island
Team Approach To Cardiovascular Health
Our dedicated team of cardiologists and cardiovascular specialists is committed to providing the highest level of care for your heart and vascular health. We offer comprehensive services to diagnose, treat, and prevent a wide range of heart and vascular conditions, including angina, arrhythmias, coronary heart disease, heart attacks, heart failure, and vascular diseases.
What sets us apart is our personalized approach to cardiovascular care. We understand that each patient is unique, and their heart health needs may vary. That's why we take the time to create customized care plans that are tailored to your specific condition, risk factors, and goals.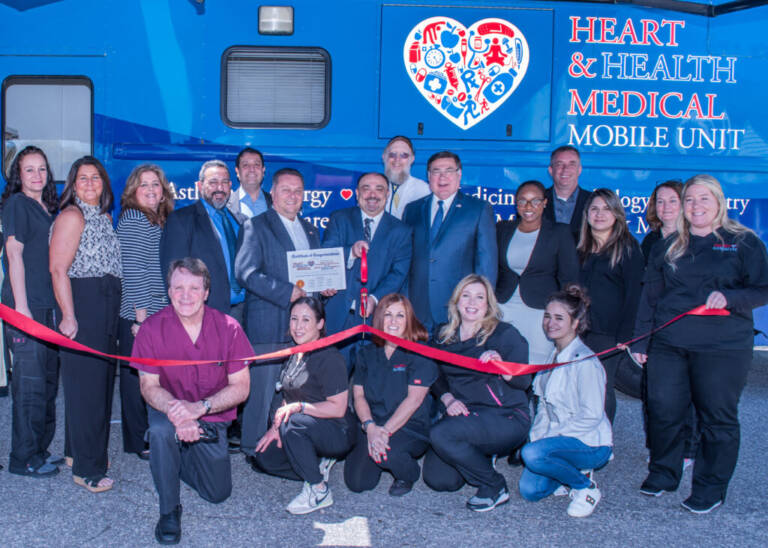 Our Services:
Comprehensive Cardiovascular Assessments: We offer thorough evaluations, including advanced diagnostic testing, to assess the state of your heart and vascular system.

Treatment and Intervention: Our experienced cardiologists are skilled in the latest treatments and interventions, ensuring that you receive the most effective care available.

Preventive Care: We emphasize the importance of prevention and work with you to manage risk factors, such as hypertension, high cholesterol, and diabetes, to reduce your chances of heart disease.

Lifestyle Modification: We provide guidance on lifestyle changes, including diet, exercise, and stress management, to support your heart health journey.

Collaborative Care: Our team works closely with other specialists and healthcare providers to ensure you receive comprehensive and coordinated care.
At Heart & Health Cardiology Care, we believe in empowering our patients with knowledge and the tools they need to take control of their heart health. We're dedicated to your well-being and are here to support you at every step of your cardiovascular care journey.
Don't leave your heart health to chance. Choose the experts at Heart & Health Cardiology Care for compassionate, personalized, and cutting-edge cardiovascular care. Your heart deserves nothing less. Schedule your appointment with us today and experience the difference in heart care.
Directions to Heart and Health Middle Island